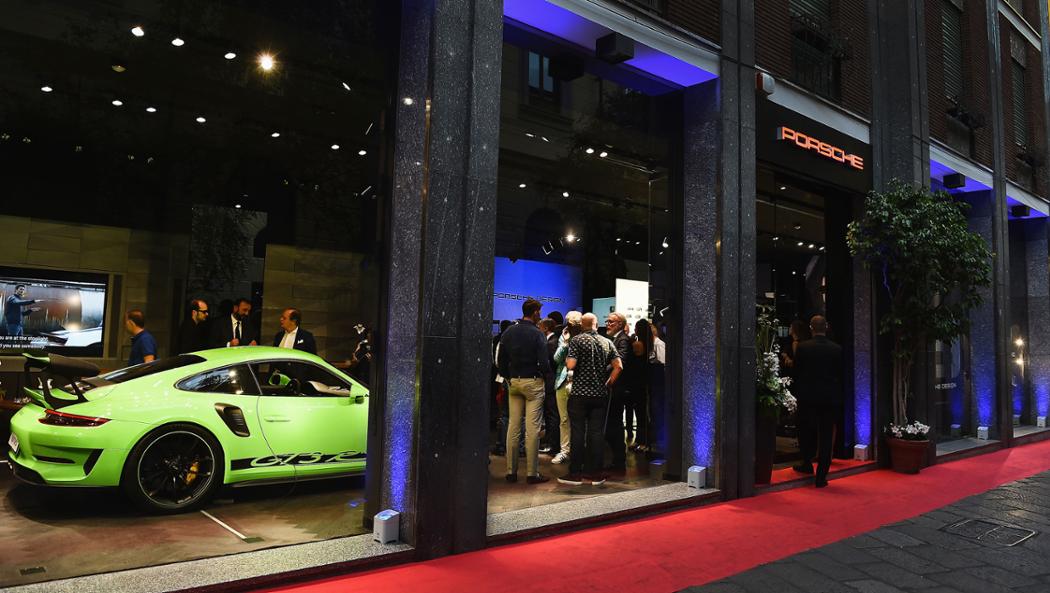 The Porsche company has teamed up with its subsidiary Porsche Design to create an all-new, cutting-edge "Porsche Studio" in Milan, Italy. The studio offers customers not only the luxurious vehicles produced by the company but also exclusive lifestyle products. "At Porsche Studio Milan, we are giving our customers access to the complete Porsche Design portfolio. With our highly attractive range of accessories presented alongside the exhibition vehicle, we are offering a special, lifestyle-oriented experience for customers and fans of the two brands," explains Jan Becker, CEO of Porsche Design. The "Porsche Studio" will be a one-stop solution for consumers looking for Porsche's best products.
The Porsche Studio is located in the heart of Milan's prestigious "Fashion Square." This coveted location assists in showcasing the new products that Porsche Design has to offer at the studio. "Just like New York, Paris and London, Milan is a fashion metropolis where design trends are set. Presenting Porsche and Porsche Design at the heart of the city illustrates the close collaboration between the two brands and gives them access to a lifestyle-oriented target group," says Detlev von Platen, Member of the Executive Board responsible for Sales and Marketing at Porsche AG.
The Porsche Studio seamlessly combines the best of both brands in a 400-square meter space that highlights the qualities of the company. The store will exhibit vehicles that can be purchased. Customers have the option to configure models on request and arrange test drives. If a vehicle is purchased, it is possible that contracts can be concluded on-site. The space also includes a "heritage wall" that showcases Porsche's 70-year history as a sports car producer.
In addition to Porsche's usual sports cars, customers can expect timepieces, luggage, bags, fashion, sportswear, eyewear, sound, and electronics. One watch from the collection offered at the studio showcases Porsche's rich history in the sports car industry. The "1919 Datetimer 70Y Porsche Sports Car Limited Edition" was created specifically to pay tribute to Porsche's 70 years of sports cars. This unique watch and all other Porsche Design products can be easily purchased at the Porsche Studio.
Porsche Studio Milan will give customers the opportunity to experience the Porsche brand in a completely new way. The studio highlights Porsche's best qualities and provides consumers with the opportunity to expand both their knowledge and their collection of the brand.