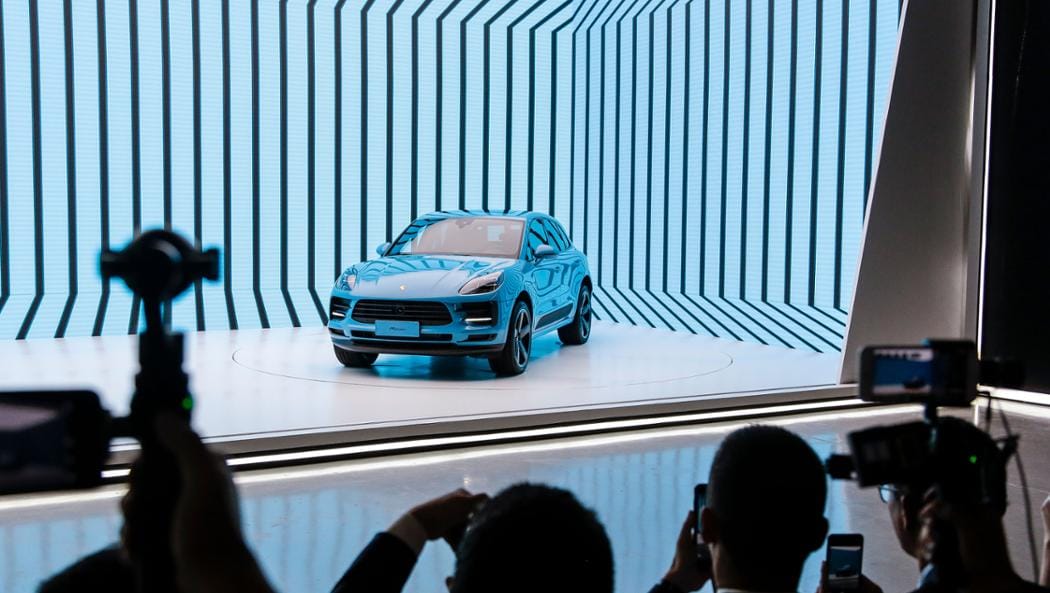 Porsche's compact SUV, the Macan, started off in 2014 and has been thriving ever since. This year, in Shanghai, Porsche revealed their all-new Macan. Featuring enhancements in the driving dynamics, design, and tech, the Macan remains a leader in its segment.
Remaining true to the iconic Porsche design, the Macan has a bold exterior. Starting with its three-dimensional LED tail light and coming around the standard LED headlights. With the option of Porsche Dynamic Light System Plus, the car can automatically control light distribution for the driver. Stepping back from the headlights, one will notice a generous facelift making the Macan look even wider. While simultaneously refining the predecessor's sleek rear end and enhancing it even more. Coming back to the tail lights, we see Porsche honoring its identity in the three-part three dimensional LED light strip and also the brake lights' four-point design.
Sliding into the interior, a vivid 10.9-inch touchscreen rests in the refined dash. Utilizing Porsche Communication Management (PCM), the large display is fully connected and offers complete functionality. Similar to the Panamera and Cayenne, the interface is customizable to meet the user's needs. Just a few of the connectivity features are real-time traffic updates, intelligent voice control, driving analysis and a plethora of others. Beyond the center counsel, the Macan houses all kinds of technology. For example, Traffic Jam Assist including adaptive cruise control enhances the driving experience up to around 37mph by assisting with steering, as well as, partially automated accelerating and breaking.
In the blood of any Porsche lies pristine sports performance, and the Macan's veins are pumping with performance. Housing a finely-tuned chassis, the Macan achieves exceptional rankings as a compact sports SUV. Rare in this segment, the Macan features different sized front and rear wheels. However this is what allows the driver to take advantage of the all-wheel drive system and milk the driving dynamics to their max.
After having a successful run since 2014, the Macan has been an especially favorited model in the Chinese market. Therefore, this new Macan model will first be offered exclusively in the Chinese market before branching out to other markets.