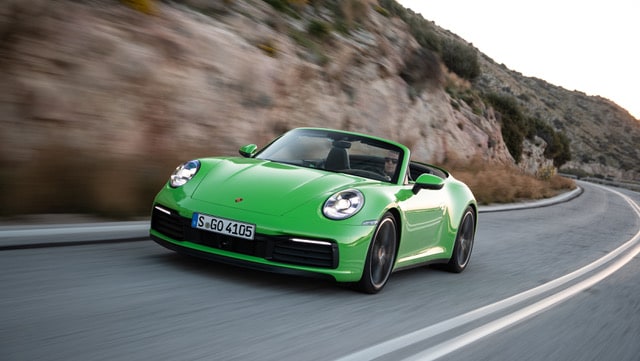 The new 911 Carrera Cabriolet is home to a redesigned soft top while maintaining its 911 stance and body shape. Refining the design ensures the soft top can span the roofline without clunky lines going across and distracting from the elegant design. Beyond remaining true to the 911 flyline, the remodeled soft top has advantages when it comes to aerodynamics. Deployment of the soft top is extremely fast and convenient. At speeds up to 30 mph the top will still deploy or retract in about 12 seconds.
Thinking innovatively, the team did not connect the panel bows and soft top fabric. This allows the four panels to stack snugly against each other when the room is closed. When opening, the Z-folding design acts swiftly and efficiently. When it's all said and done, the ensemble; roof fabric, frame, panel bows, and rear window are only 23cm tall and 55cm long. Being so compact, the package rests in the rear storage without taking up room or changing the shape of the roofline. Another feature of the Cabriolet is its electrically operated wind deflector that is seamlessly integrated into the body to offer more space to passengers. When using the wind deflector it hops up in 2 quick seconds at speeds up to 75 mph and offers heightened comfort for riders.
Aerodynamics have not been forgotten about with the Cabriolet. Working together, the streamlined body surface contours, convertible top, enlarged variable rear spoiler, and the cooling system with adaptive air flap are just the basics to the 911 Carrera Cabriolet. Adjustments have also been made to the air intakes and outlets to improve cooling air routing.
An advanced automatic roll-over protection system puts the driver's mind at ease. A highlight from the system is a composition of two spring pressure deployed cassette modules behind rear seats. Each outfitted with a carbide metal pin to ensure a firm and rapid opening action even if the roof is closed.