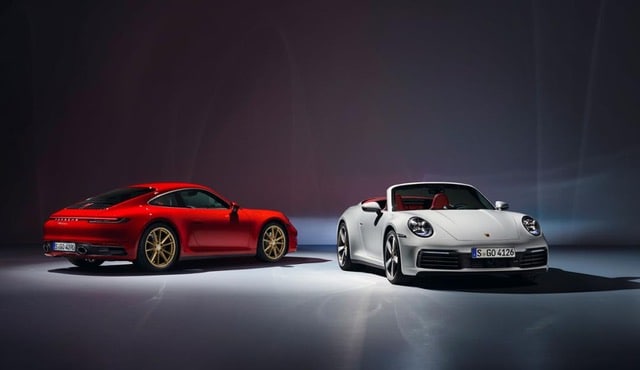 The Carrera has consistently been a staple in the Porsche 911 line. Serving as an entry-level 911, the Carrera brings premium performance to a wide market. Now it is being launched as a Coupé and Cabriolet, the new models present a refreshing update to the design and even better performance specs.
In both models, there is 11kW more power than the predecessor as well as a near parallel of premium standard features to the 911 Carrera S. Notable features are the 10.9-inch touchscreen and top of the line assistance systems like Porsche Wet Mode. Wet Mode senses handling conditions and ensures safe handling is taken as a priority on the roads. Smaller dimensioned wheels and brakes are a distinguishing feature of the 911 Carrera as well as the individual tailpipe covers on the exhaust system.
Similar to the Carrera S model, the new Coupé and Cabriolet's engine, chassis, and brakes are designed for continuous sportiness delivered across all aspects of the vehicle. A 3.0-liter six-cylinder boxer engine is the powerhouse of the 911 Carrera. The main power of the engine comes from the smaller wheel diameters of the turbines and compressors that are a feature of the new turbochargers. A dashing 0-60mph in 4 seconds flat is delivered by the new eight-speed dual-clutch transmission. With the optional Sport Chrono Package, the 0-60mph time reduces another .2 seconds. Making it only 3.8 seconds for a 0-60mph acceleration. The tire configurations start with 235/40 ZR 19-inch alloy wheels on the front wheels. On the rear wheels, there are 20-inch, 295/35 ZR tires. The mixed tire configuration allows for the most power and grip to take off at a drop of a pin. Stopping power for all wheels is powered by 330-millimeter brake discs with black, four-position monobloc fixed calipers.