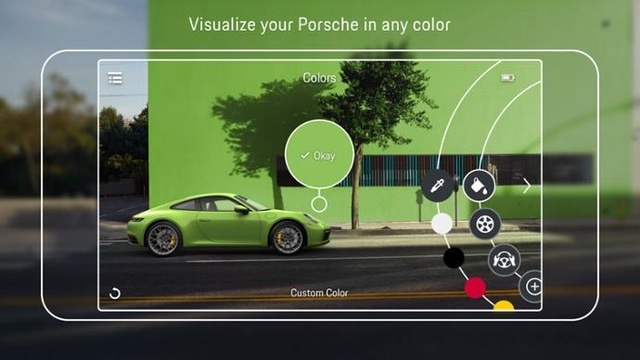 Having your dreams come true is a common experience whenever Porsche is involved, but now customers can live their dreams without even stepping out of their door. Porsche Augmented Reality Visualizer App allows customers to create and see a customized model of their dream car in their own driveway.
Oliver Hoffmann, Director Marketing Communications at Porsche, explains: "With our new app, the configuration of a Porsche will be even more of a digital experience. Now, before making the purchase decision, everyone can virtually park their dream Porsche in their own driveway, marvel at it in their own living room, or show a photo-realistic version to their friends."


This exclusive feature designed by Porsche grants users the ability to examine and visualize configured vehicles wherever they like. The vehicles can be configured within the app, or by using the familiar Web Configurator. Then the user can virtually place the vehicle inside rooms or outdoors. Using augmented reality (AR), users are able to swap paint colors and make further tweaks to their configuration. For those who love the technical details of their vehicle, the "highlight function" will allow for an x-ray style view which reveals details beneath the surface of the car. For example, a user can look under the chassis and virtually see the drivetrain of their configured vehicle.

Currently, the app has three models available to be configured: the new Porsche 911 Carrera S and Carrera 4S as well as the Mission E concept. Shortly the Taycan will be added to the virtual line-up. Before the end of 2019, Porsche expects to have their entire line of vehicles available to be configured and viewed with AR via the app. Using existing systems and enhancing them for the app enables users to step into their new lives with a Porsche whenever and wherever they choose.
Want to experience a Porsche in real life? Stop by O'Daniel Porsche, Fort Wayne.