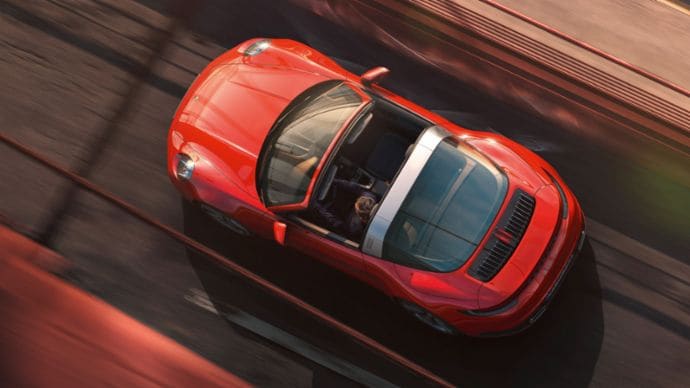 The past few months have been an exciting time for the Porsche 911 series. Introducing the next generation 911 Targa, Porsche is completing its 911 trio – Coupé, Cabriolet, and Targa. Reminiscent of the 1965 original Targa, the updated design will be available for the all-wheel-drive 911 Targa 4 and 911 Targa 4S models. Watch the virtual world premiere.


Just as the original Targa, the new model is distinguished by its wide roll hoop on that lays between the expansive wraparound back window and fully automatic roof system. Better yet, the roof can be completely opened or closed in only 19 seconds. This signature roof system sets the Targa apart from anything that has come before.
An eight-speed dual-clutch transmission (PDK) and all-wheel drive Porsche Traction Management (PTM) are standard on the Targa. In addition, the 911 Targa 4S can be equipped with a seven-speed manual gearbox coupled with the Sport Chrono Package. Porsche InnoDrive with adaptive cruise control and the Smartlift function are also available for the first time on these models to make day to day driving as comfortable as possible. A list of other options will be available to make each Targa model perfect for each and every driver. For the pure Porsche enthusiasts, the Porsche Exclusive Manufaktur will introduce a special edition of 911 Tara with enhanced elements and unparalleled innovation in June.


At the core of the Targa is a six-cylinder, three-liter boxer engine with twin turbochargers. For the 911 Targa 4, the engine delivers 379 horsepower and with the Sport Chrono package hits 60 mph in just 4.2 seconds. Its top speed is 179 mph. The 911 Targa 4S fuels 443 horsepower and zips to 60mph in 3.6 short seconds reaching a top speed of 188 mph.
Driving dynamics have never been better with the slew of standard and optional features for the Targa. Standard Porsche Active Suspension Management automatically adjusts damping for optimal comfort and handling according to models Normal and Sport. Handling is enhanced by Porsche Wet and its automatic detection of wet conditions that may require Wet mode to be activated. Standard on the Targa 4S is Porsche Torque Vectoring Plus (PTV Plus) which includes rear differential lock with fully variable torque distribution. PTV Plus is also available for the Targa 4.


The 1965 911 Targa 2.0 was without a doubt eye-catching and a natural conversation starter in its day. Today the next generation 911 Targa 4 and Targa 4S are here to live up to the legacy. With its iconic roof system that incorporates the safety of a Coupe but thrill of an open-top cabriolet, the Targa is a car like to other.