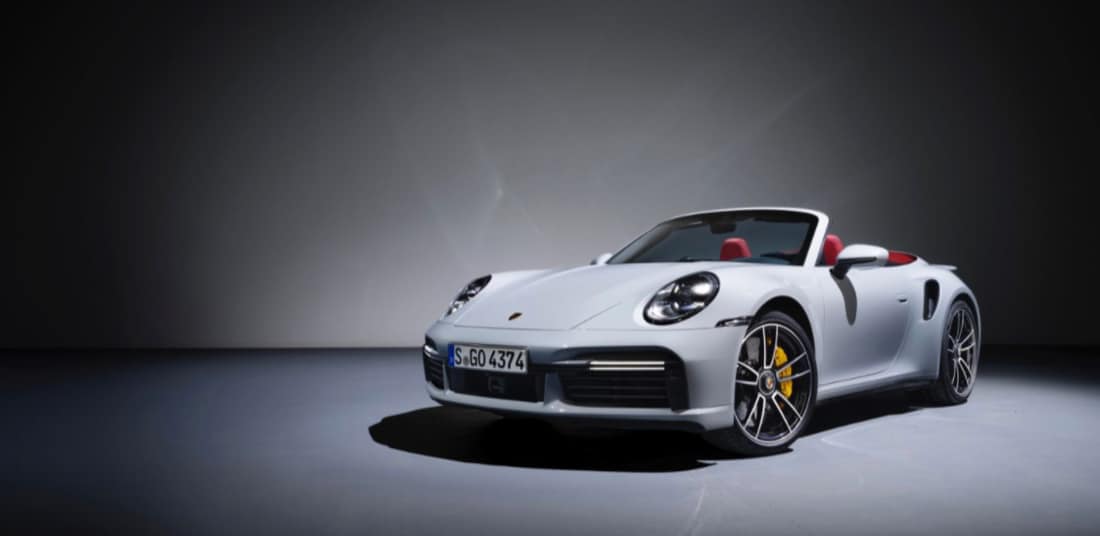 With power, comfort, and driving dynamics like never before, the new-generation 911 Turbo S is being launched by Porsche as a Coupé and Cabriolet.
Powered by the all-new 3.8-liter boxer engine that includes two VTG turbochargers, delivering 478 kW. This is an impressive 51kW more than its predecessor. Its top speed is 330 km/h, with the jaw-dropping ability to sprint from zero to 100 km/h in only 2.7 seconds. Additionally, the maximum torque is 800-newton meters.
The new 911 Turbo S Coupé delivers improved vehicle characteristics regarding power, torque, revving ability, emissions, and responsiveness. This all due to the significant vehicle improvements and additions, including larger VTG turbochargers that include electrically adjustable wastegate flaps, turbochargers with a completely redesigned charge air cooling system, and the use of piezo injectors. A new intake system has also been developed, allowing part of the process air to flow through theTurbo air intakes into the rear side sections. In addition to the rear sides, two other airflows are found through the rear lid grille. In other words, the 911 Turbo S has a total of four intakes with lower resistance and an overall larger cross-section, ultimately improving the overall engine efficiency. Furthermore, the wheels rotate in opposite directions on both sides of the vehicles, and the wastegate flaps are electrically controlled with the implementation of stepper motors.
Looking at the new 911 Turbo S Cabriolet, we see a beautiful balance between the harmonious design and the driving pleasure, sportiness, and dynamics of the vehicle. When looking at the sprint from 0 to 200 km/h, the 911 Turbo S is an entire second faster than its predecessor, achieving a swift 8.9 seconds. With up to 500 Nm being transferred to the front wheels, the car also distributes a significant increase in torque thanks to the improved Porsche Traction Management (PTM) all-wheel drive. The interior has a sporty and high-quality finish, with a full leather interior with Light Silver accents. The 911 Turbo S includes a 10.9 PCM center screen and a new layout, allowing for easy operation with no distraction.
Porsche — there is no substitute.