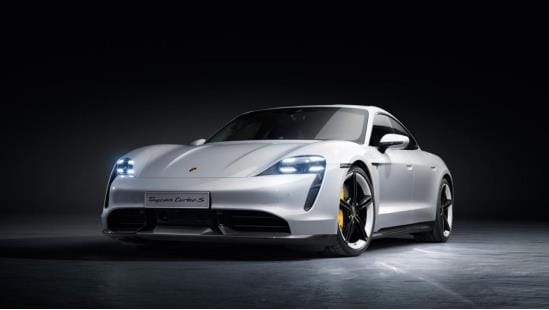 On September 4th, Porsche held a world premiere simultaneously on three continents showcasing their new 2020 Taycan — the first fully-electric sports car offered from the brand. Each location of the premiere represented one of three ways of sustainable energy management: Niagara Falls for hydropower, a solar farm near Berlin for solar power, and a wind farm located near the Chinese city of Fuzhou for wind power.
"We promised a true Porsche for the age of electromobility — a fascinating sports car that not only excites in terms of its technology and driving dynamics, but also sparks a passion in people all over the world, just like its legendary predecessors have done," said Michael Steiner, Member of the Executive Board of Porsche AG — Research and Development. "Now we are delivering on this promise."
Both the Taycan Turbo and the Taycan Turbo S are powered by an 800-volt electrical system. The Turbo produces 670 horsepower and 626 lb-ft of torque, while the Turbo S produces 750 horsepower and 774 lb-ft of torque.
Two electric machines installed on the front axle and the rear axle make the Turbo and Turbo S all-wheel drive. To create the highest power density of any powertrain on the market, the electric machine, transmission, and pulse-controlled inverter have each been combined into a compact drive module. More copper has been incorporated into the stator coils of the electric motors to increase power output and torque.
Using direct current from the high-power charging network, Taycan drivers can recharge the battery in a little over five minutes. To recharge at home, drivers only need up to eleven kW of alternating current.
A centrally networked control system helps analyze and synchronize all chassis systems, including an adaptive air suspension with Porsche Active Suspension Management electronic damper control and Porsche Dynamic Chassis Control Sport electromechanical roll stabilization system with Porsche Torque Vectoring Plus.
Four different drive modes are available on the Turbo and Turbo S, including "Normal," "Range," "Sport," and "Sport Plus." Drivers can also customize individual systems using the "Individual" mode.
The four-door Taycan's interior features sophisticated styling and completely new architecture. For the first time, Porsche offers an interior that is entirely leather-free and uses innovative recycled materials instead. An intuitive 10.9-inch infotainment display and an optional passenger display features all of the classic hardware controls and responds to touch operation or the voice control function. The dash and center console are connected by a large touchscreen that hosts several controls for cabin climate, music, navigation, and more.
The Porsche Taycan Turbo and Turbo S are now available for interested buyers to order.