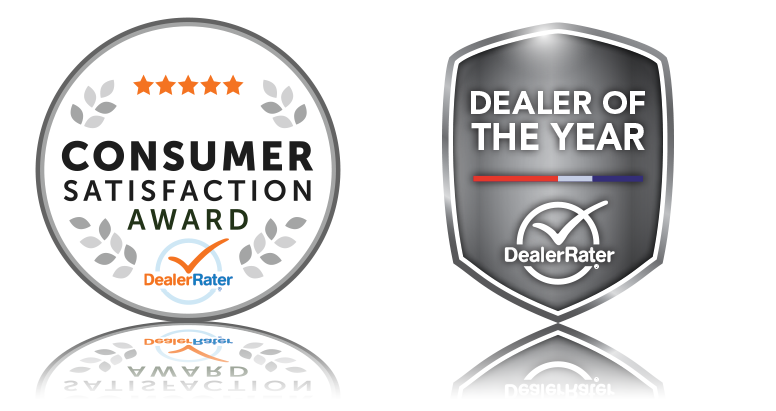 The Porsche Dealership of Fort Wayne has been awarded the DealerRater.com 2021 award for Dealer of the Year once again! This honor for the Fort Wayne Porsche Dealership is well-deserved, as the dealership is committed to putting clients at the forefront of each and every one of its actions.
Going above and beyond, the Fort Wayne Porsche Dealership has met and exceeded its client's expectations for yet another year. The Dealer of the Year title is annually awarded based on customer reviews. The dealership with the highest PowerScore in the state and nationally on the DealerRater site receives the award. The PowerScore is determined based on the average of a dealership's ratings and the number of reviews the dealership is given.
Oftentimes, a customer's opinion is one of the key factors in persuading other potential customers to pick a business. Especially when making the Fort Wayne Porsche Dealership their number one choice. This is not the first time receiving the renowned award for the Porsche dealership either; they celebrated this win in 2019 and 2020 as well. The Fort Wayne Porsche Dealership not only met the PowerScore requirements along with achieving the highest average PowerScore, but the dealership also has an extraordinarily high level of consistently positive reviews.
The O'Daniel Automotive Group includes nine dealerships, and the Porsche dealership, just like all the others, assists customers with their every need, every day. Porsche certified employees are hard at work to keep their customers happy while maintaining open arms for future customers.
"Antonio Rodriguez" on the DealerRater website described their purchase with the Porsche dealership as both seamless and satisfying.
The 5-star review reads:
"The delivery was timely, the financial process with Melissa was like I've never experienced, and the follow up after our purchase has been great! I can't complain and this only confirms that we made the right choice when selecting this location."
An accredited institution for more than just its Porsche dealership, The O'Daniel Automotive Group is well known for putting clients needs first. Every dealership in The O'Daniel Automotive Group is dedicated to exceeding client expectations by offering a shuttle service, certified pre-owned vehicles, free car loaners, free pickup and delivery, and numerous other unbeatable services. Not to mention, there is an added level of client comfort offered by family-run businesses like this one.
Thriving and making customers happy for over thirty years, the O'Daniel dealerships are experienced and nothing short of professional. You can learn more about the Porsche Fort Wayne Dealership at porschefortwayne.com. Thank you to the Porsche Fort Wayne Dealership for its excellent customer care and service — and here's to another great year!